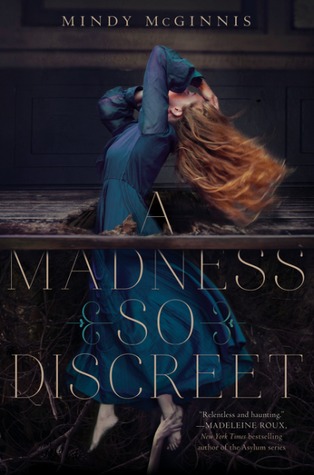 A Madness So Discreet by Mindy McGinnis
Published October 6th 2015 by Katherine Tegen Books
Source: Traded
Rating: ★★★½☆
Grace Mae knows madness.

She keeps it locked away, along with her voice, trapped deep inside a brilliant mind that cannot forget horrific family secrets. Those secrets, along with the bulge in her belly, land her in a Boston insane asylum.

When her voice returns in a burst of violence, Grace is banished to the dark cellars, where her mind is discovered by a visiting doctor who dabbles in the new study of criminal psychology. With her keen eyes and sharp memory, Grace will make the perfect assistant at crime scenes. Escaping from Boston to the safety of an ethical Ohio asylum, Grace finds friendship and hope, hints of a life she should have had. But gruesome nights bring Grace and the doctor into the circle of a killer who stalks young women. Grace, continuing to operate under the cloak of madness, must hunt a murderer while she confronts the demons in her own past.
I didn't think I'd enjoy this book half as much as I ended up doing, which came as a really nice surprise. I was a little hesitant to pick this up at first seeing as I'd read and wasn't a fan of another one of the author's books, but A Madness So Discreet ended up working a lot better for me than Not a Drop to Drink. I loved the atmosphere, all the little subtleties, the characters and Grace's relationships with them, and the satisfaction that the ending brought. On the other hand, though, I wasn't too sold on the murder case Grace and the doctor tried to solve. It all felt a little too vague and a little too shallow, which did get me thinking that maybe the author took on a few more plot points than a single book of this length could handle. But all in all, I really enjoyed A Madness So Discreet.
A Midsummer's Nightmare by Kody Keplinger
Published June 5th 2012 by Poppy
Source: Purchased
Rating: ★☆☆☆☆
Whitley Johnson's dream summer with her divorcé dad has turned into a nightmare. She's just met his new fiancée and her kids. The fiancée's son? Whitley's one-night stand from graduation night. Just freakin' great.

Worse, she totally doesn't fit in with her dad's perfect new country-club family. So Whitley acts out. She parties. Hard. So hard she doesn't even notice the good things right under her nose: a sweet little future stepsister who is just about the only person she's ever liked, a best friend (even though Whitley swears she doesn't "do" friends), and a smoking-hot guy who isn't her stepbrother…at least, not yet. It will take all three of them to help Whitley get through her anger and begin to put the pieces of her family together.
I loved The DUFF and Shut Out, and I wanted to love this one too, but… wow. Ugh. Okay. Honestly, I feel like the main character just rubbed me in all the wrong ways. Whitley's super pissy and obnoxious all the time, and blames everything she does on her parents and their problems and, okay, they're far from great, but? Really? Bad backstory doesn't excuse bad behavior. Her life's been crummy, but the way she acted was detestable – the great majority of the characters around her too were pretty detestable. There's slut-shaming and cyber-bullying, neither of which are ever really fully addressed (why). I skimmed a little to get to the end, mainly because I was hoping for it to do some drastic 180, but I'm pretty sure it went past the point of no return fairly early in, so all I was left feeling was increasingly angry.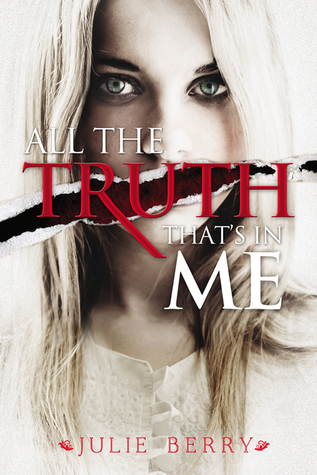 All the Truth That's in Me by Julie Berry
Published September 26th 2013 by Viking Books for Young Readers
Source: Traded
Rating: ★★★½☆
Four years ago, Judith and her best friend disappeared from their small town of Roswell Station. Two years ago, only Judith returned, permanently mutilated, reviled and ignored by those who were once her friends and family.

Unable to speak, Judith lives like a ghost in her own home, silently pouring out her thoughts to the boy who's owned her heart as long as she can remember—even if he doesn't know it—her childhood friend, Lucas.

But when Roswell Station is attacked, long-buried secrets come to light, and Judith is forced to choose: continue to live in silence, or recover her voice, even if it means changing her world, and the lives around her, forever.
All the Truth That's in Me is one of those books that are a little hard to rate. I really enjoyed the writing – personally, I really love the fluid timelines, the fragmented, sectioned chapters, and the sort of narrative that leaves many gaps, so that at the middle of the book, there are more questions than answers, and then even at the end, there are still some pieces that are left up to the imagination of the reader to fill in. The author made the transitions between past and present, and between one scene and another work wonderfully, so that even though a lot of the sections were rather quick and rather short, nowhere did the flow feel jarring. However, I do feel like the author took a few cop-outs here and there, and under-handled a few pieces of the story, which left the ending rather unsatisfying, and me slightly unsettled – and not the haunting, chilling unsettled this kind of story often brings, but the sort of feeling you get when the story's skipped a few turns on its way to the goal – as if there was something crucial missing.
Isla and the Happily Ever After (Anna and the French Kiss #3) by Stephanie Perkins
Published August 14th 2014 by Dutton
Source: Borrowed
Rating: ★★☆☆☆
Love ignites in the City That Never Sleeps, but can it last?

Hopeless romantic Isla has had a crush on introspective cartoonist Josh since their first year at the School of America in Paris. And after a chance encounter in Manhattan over the summer, romance might be closer than Isla imagined. But as they begin their senior year back in France, Isla and Josh are forced to confront the challenges every young couple must face, including family drama, uncertainty about their college futures, and the very real possibility of being apart.
This might partially be due to the fact that I've binge-read far too many contemporaries recently, but Isla and the Happily Ever After just didn't carry that same spark Anna and the French Kiss did. I loved the cameos. I loved some of the banter (it's a Stephanie Perkins novel, after all). But it wasn't terribly impressive; it was missing something. For one, it was super cheesy – talk about overdone. But then it also didn't feel authentic. Their story's supposed to be one that's started before the novel. They've got history and tension and all that good stuff, but it just didn't feel convincing – just too hot and heavy too quickly and way too insta-love-y. I don't know. The whole Kurt situation was also really weird, and the ending? Everything's falling apart and broken and drowning in tears but then suddenly flip the page and everything's sunshine and daisies again? I know it's fiction, but would it be too much to ask for something a liiitle more realistic?