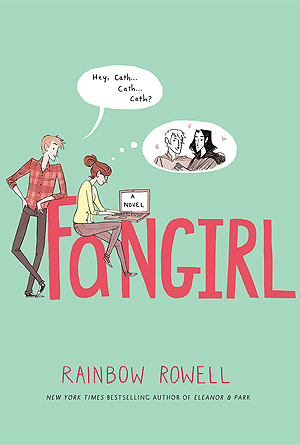 Fangirl by Rainbow Rowell
Published September 10th 2013 by St. Martin's Press
Source: Purchased
Rating: ★★★★☆
Cath is a Simon Snow fan.

Okay, the whole world is a Simon Snow fan…

But for Cath, being a fan is her life—and she's really good at it. She and her twin sister, Wren, ensconced themselves in the Simon Snow series when they were just kids; it's what got them through their mother leaving. Reading. Rereading. Hanging out in Simon Snow forums, writing Simon Snow fan fiction, dressing up like the characters for every movie premiere.

Cath's sister has mostly grown away from fandom, but Cath can't let go. She doesn't want to.

Now that they're going to college, Wren has told Cath she doesn't want to be roommates. Cath is on her own, completely outside of her comfort zone. She's got a surly roommate with a charming, always-around boyfriend, a fiction-writing professor who thinks fan fiction is the end of the civilized world, a handsome classmate who only wants to talk about words… And she can't stop worrying about her dad, who's loving and fragile and has never really been alone.

For Cath, the question is: Can she do this? Can she make it without Wren holding her hand? Is she ready to start living her own life? Writing her own stories?

And does she even want to move on if it means leaving Simon Snow behind?
Honestly, if I think too long and hard about Fangirl, there are definite points I could pick at – Fangirl's the kind of book that could swing from a four-star to a two-star depending on my mood. But right now, Fangirl is close to the bookish version of comfort food, and I needed that.
I could really relate to Cath. My social skills are pretty much nonexistent, my self-esteem is lower than I'd care to admit, and I'm not the best at accepting change. Also like me, Cath is shy and quiet, but talkative and enthusiastic about the things she enjoys when she opens up. And I could relate to the way she turned to writing as a way to express herself, and felt more at ease through the screen, in her fandom, rather than face-to-face conversations. So when I read about Cath, all I really wanted was to reach through the pages give her a hug, and let her know that she isn't the only one.
I wasn't a huge fan of the fanfiction – I skimmed over most of it, especially the larger chunks (I'm still wondering how Rainbow Rowell is going to pull off Carry On when the whole thing was supposedly a Draco/Harry fic?), and I can't say I was terribly impressed by any of the other characters, or that they were particularly memorable.
The writing was quirky, fluffy, and cute. It's the kind that brings to mind tumblr graphics: words in a messy, handwritten font placed over a shaky scenery picture. It wasn't particularly impressive, nor terrible.
Alright, so I'm doing a terrible job of reviewing Fangirl. The thing is, most of it wasn't outstanding. For the most part, it was a very average one-time read. But the part that really stood out for me and bumped up my rating was Cath, because Cath's most everything I'm feeling, and reading Fangirl was like getting a hug, or having someone whisper "it's okay." There wasn't really anything I could point out and highlight, but after I was through, I felt warm and fuzzy and happy.