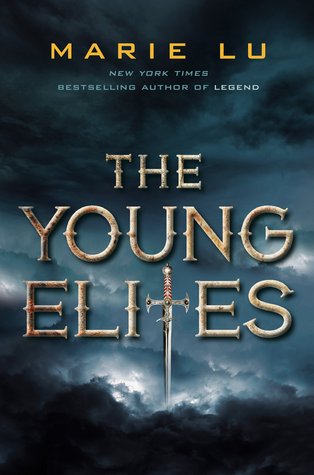 The Young Elites (The Young Elites #1) by Marie Lu
Published October 7th 2014 by G.P. Putnam's Sons Books for Young Readers
Source: Purchased
Rating: ★★★☆☆
I am tired of being used, hurt, and cast aside.

Adelina Amouteru is a survivor of the blood fever. A decade ago, the deadly illness swept through her nation. Most of the infected perished, while many of the children who survived were left with strange markings. Adelina's black hair turned silver, her lashes went pale, and now she has only a jagged scar where her left eye once was. Her cruel father believes she is a malfetto, an abomination, ruining their family's good name and standing in the way of their fortune. But some of the fever's survivors are rumored to possess more than just scars—they are believed to have mysterious and powerful gifts, and though their identities remain secret, they have come to be called the Young Elites.

Teren Santoro works for the king. As Leader of the Inquisition Axis, it is his job to seek out the Young Elites, to destroy them before they destroy the nation. He believes the Young Elites to be dangerous and vengeful, but it's Teren who may possess the darkest secret of all.

Enzo Valenciano is a member of the Dagger Society. This secret sect of Young Elites seeks out others like them before the Inquisition Axis can. But when the Daggers find Adelina, they discover someone with powers like they've never seen.

Adelina wants to believe Enzo is on her side, and that Teren is the true enemy. But the lives of these three will collide in unexpected ways, as each fights a very different and personal battle. But of one thing they are all certain: Adelina has abilities that shouldn't belong in this world. A vengeful blackness in her heart. And a desire to destroy all who dare to cross her.

It is my turn to use. My turn to hurt.
The Young Elites is dark and vivid and though it lost a little steam as the book went on (only to return at full blast in the end because holy crap, guys. Marie Lu doesn't play around), I really enjoyed it. It's wonderfully complicated, with complex characters and hidden agendas; fantasy and magic and political intrigue.
Contrary to what I thought, this wasn't a book about a villain – not really. Nor was it a book about a hero. I'll admit, I was a little disappointed at first. I'd been expecting Adelina to be a villain or a twisted hero. Hear me out, but I feel like she's none of those things. Not that it's a bad thing – after the initial disappointment, though I never quite grew to love her, I found her really interesting to read about. Adelina's been mistreated all her life by a father who makes Cinderella's stepmother seem saintlike. She's lived a shitty life especially after the fever. She's been tossed around by so many people that of course she snaps. And she does do some bad things. She kills people – I won't deny it. And she snaps a couple times throughout the story in bouts of badassery. But the reason why I don't really find her to be villainous or particularly strong is because she's always trying to take the easy way out and the way she reacts doesn't measure up with the things that's said about her and the things that she's supposed to be. She seems rather soft, and actually seems to care a great deal about what others think of her and often tries to mold herself into their standards, which doesn't make for a bad character, as I did mention she was interesting to read about, but I was really prepared for a strong, dark, bitter, character, which she wasn't. So that threw me off a little.
I loved the rest of the cast of characters, though, each complicated, with questionable motives. I think the only character I was iffy about was Adelina's sister, whom I felt was thrown in entirely for convenience and plot, as the book seemed to forget about her altogether at times, and the big reveal regarding her seemed all too convincing and a little too unbelievable. Other than that, I loved the varieties and the differences among the characters. The whole book really gave off a dark, no-one-is-ever-quite-who-they-say-they-are feel, from Enzo, the prince who's looking to claim his throne, to Tenzen, equal parts pitiful and awful, and gentle, beautiful Rafaelle.
As usual, my favorite thing about this was the writing. If I dog-eared pages with my favorite quotes, I think I would've dog-eared every other page. Instead, I tried memorizing something like 200 different page numbers, which didn't quite work out, but my point is, yes, the writing was that good. It's deep and it feels real, – which sounds both really exciting and utterly terrifying at the same time – twisting and layered, with light romance. I thought I would've been more bothered with the multiple perspectives, but I wasn't. My only complaint is, like I said , the book began with a bang. Then it snowballs, adding more and more and more to the plot, but then somewhere along the way, something goes a little awry and the story begins to feel a little repetitive, like there's something not quite working anymore, and we're watching Adelina doing something she's done multiple times already, and we're just sitting around waiting for the ball to drop and something new to happen.
More than anything, though, The Young Elites feels more like an introduction, the backstory to the real plot, especially with that ending and epilogue, which is probably one of the best ones I've read, even if it did make me want to curl up into a ball and sob my way to 2015. I'm particularly curious about what Adelina's going to do next, and how her powers will develop, especially after Tenzen and Rafaelle's conversation on the matter.
The Young Elites wasn't awful by any stretch. It had me flipping pages and gripping book covers. It had me doing the whole thing where you slow down when you realize you're reaching the end because you aren't quite ready to close the book yet (anyone?). It was a bit of a letdown in some parts, but I really liked the world and the characters, so I'll definitely be sticking around to see what happens next.