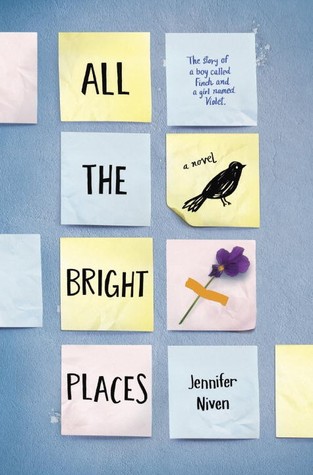 All the Bright Places by Jennifer Niven
Published January 6th 2015 by Knopf
Source: Gifted
Rating: ★★☆☆☆
Theodore Finch is fascinated by death, and he constantly thinks of ways he might kill himself. But each time, something good, no matter how small, stops him.

Violet Markey lives for the future, counting the days until graduation, when she can escape her Indiana town and her aching grief in the wake of her sister's recent death.

When Finch and Violet meet on the ledge of the bell tower at school, it's unclear who saves whom. And when they pair up on a project to discover the "natural wonders" of their state, both Finch and Violet make more important discoveries: It's only with Violet that Finch can be himself—a weird, funny, live-out-loud guy who's not such a freak after all. And it's only with Finch that Violet can forget to count away the days and start living them. But as Violet's world grows, Finch's begins to shrink.
This really isn't much of a review, partially because there isn't really much to say: it follows the formula to a T, but fails to do much beyond that.
The writing was nice – the source of all my stars, actually, but I hate the degree of emotional manipulation. It's like this book was one large checklist for a Sad Book. The characters weren't really characters, just labels stuffed into bodies for the purpose of some poignant novel a la John Green. I hated Violet's passiveness, and really, what's up with their families? Where were they?
Live Through This by Mindi Scott
Published October 2nd 2012 by Simon Pulse
Source: Purchased
Rating: ★☆☆☆☆
From the outside, Coley Sterling's life seems pretty normal . . . whatever that means. It's not perfect—her best friend is seriously mad at her and her dance team captains keep giving her a hard time—but Coley's adorable, sweet crush Reece helps distract her. Plus, she has a great family to fall back on—with a mom and stepdad who would stop at nothing to keep her siblings and her happy.

But Coley has a lot of secrets. She won't admit—not even to herself—that her almost-perfect life is her own carefully-crafted façade. That for years she's been burying the shame and guilt over a relationship that crossed the line. Now that Coley has the chance at her first real boyfriend, a decade's worth of lies are on the verge of unraveling.
I picked this up looking for something gripping, emotional, and different from my usual reads, but I think the only thing I felt afterwards was disconnected and a little confused. The core story is a powerful one, and it touches on an important subject, but I feel like on a whole, the story could've been executed better. The plot, for one, isn't all there, and there's a lot of subplots and tidbits that are picked up and then promptly forgotten about at various points in the story. On a whole, I feel like a lot of things that should've been more explored weren't, whereas many things that didn't really lend a hand to the story – or, maybe, could've, if I'd been more clear on what was going on and why – took up too many pages. And as far as Coley, she seemed far to distant for a main character, making it hard to empathize with her, and coupled with such a rushed story… I know I'm supposed to have lots of feelings, but right now I'm firmly in the ??? camp.
The Boy Most Likely To by Huntley Fitzpatrick
Published August 18th 2015 by Dial Books
Source: Borrowed
Rating: ★★★☆☆
Tim Mason was The Boy Most Likely To find the liquor cabinet blindfolded, need a liver transplant, and drive his car into a house

Alice Garrett was The Girl Most Likely To . . . well, not date her little brother's baggage-burdened best friend, for starters.

For Tim, it wouldn't be smart to fall for Alice. For Alice, nothing could be scarier than falling for Tim. But Tim has never been known for making the smart choice, and Alice is starting to wonder if the "smart" choice is always the right one. When these two crash into each other, they crash hard.
I'm really on the fence with this one. One one hand, I liked it: it was heavier than I thought it would be, and at times it feels a little forcefully emotionally manipulative, but I loved Huntley Fitzpatrick's writing and the voice that she gives the characters. Tim especially could be really… charming? (for some reason, I feel like some doting grandmother when I say that) at times, and I loved the large family sort of atmosphere. I have a huge extended family, but my immediate family's rather small, so my everyday life's really quiet, and it was really interesting to see the differences. However – and, speaking of forcefully emotionally manipulative – I didn't like the "twist" that the author employed. I mean, I know these things do happen, and it did accomplish its goal of pushing Tim to grow up, and a large part of it really is just personal preference, but honestly, it also felt awkward and stilted, as if it was thrown in for the sake of more complications and more angst. Which I'll pass on, thanks.
So while I did enjoy some parts of The Boy Most Likely To and will definitely be picking up some of Huntley Fitzpatrick's other novels, a good chunk of this novel just really wasn't for me. I'm thinking I probably should've gone with My Life Next Door instead?