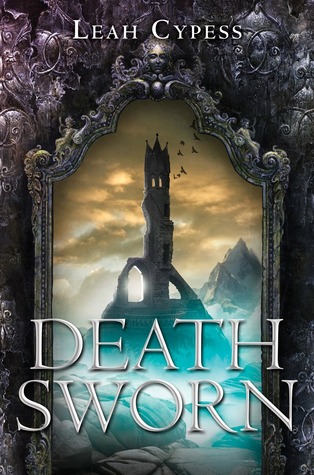 Death Sworn (Death Sworn #1) by Leah Cypess
Published March 4th 2014 by Greenwillow
Source: Traded
Rating: ★★★½☆
When Ileni lost her magic, she lost everything: her place in society, her purpose in life, and the man she had expected to spend her life with. So when the Elders sent her to be magic tutor to a secret sect of assassins, she went willingly, even though the last two tutors had died under mysterious circumstances.

But beneath the assassins' caves, Ileni will discover a new place and a new purpose… and a new and dangerous love. She will struggle to keep her lost magic a secret while teaching it to her deadly students, and to find out what happened to the two tutors who preceded her. But what she discovers will change not only her future, but the future of her people, the assassins… and possibly the entire world.
Because I'm quite the pessimist and always prefer my bad news before my good, I figured I'd start my review that way, too – bad before the good. Not that there wasn't a lot of things to dislike about this book. Really, there wasn't anything I particularly disliked about Death Sworn at all. It was just… light.
Death Sworn was a pleasant book – light on the romance, awesome characters, filled to the brim with secrets and conspiracies… it wasn't a terrible book by any means. It was enjoyable, but I guess it just wasn't the most impressive book.
This paragraph I've added in just now, after I've written the rest of this review, but now, mulling things over, I realize that Death Sworn has another noticeable flaw: world-building, or rather, the lack of it. I didn't quite notice it when I was reading, or immediately afterwards – the writing and the story uses just the bare minimum and somehow makes it work – but Death Sworn lacked a lot of world-building details. We're never really quite sure what's going on beyond the caves where the book takes place, or really who any of the main power figures of the Empire are, though their names are scattered throughout the book. The Renegai (magicians) also remain quite a mystery for the duration of the novel, as does the whole magical system. Surprisingly, it didn't take much away from my initial reading experience, but these were all things I'd like to know.
Also, I think it really says something about YA novels nowadays (or maybe just my crappy reading selection?) when I get extremely, irrationally happy when the main character, the single female, walks into a cavern filled with male assassins – most if not all of which have probably never seen a woman in their lives – and none of them looks her way. They're assassins – they're trained killers. They've got more to do than trip over themselves for some girl, no matter how kick-ass or beautiful she was. I also got extremely, irrationally happy when Ileni said something like "I love you, but I'm not stupid." FINALLY. A heroine who can love while keeping her head on straight. Hallelujah. Where have you been my whole life. It's a bit of an exaggeration, but I also think it's quite sad to feel happy over things that should already exist.
I really liked Ileni, her level-headedness, and the way that, when something bad happens to her (and a lot does), she kind of just sucks it up and moves on, doing what she can. I know I'd fall apart and probably hide under a rock for a while, especially if I'm put in her situation: sent into a cave full of assassins without adequate magic to protect oneself with, but she has to trick and convince them that she does, for her own safety. Yep, if I was in a novel, I'd probably be that one crybaby helpless character who dies in the first chapter. Maybe the second, if I was lucky. But I digress. She knows her limitations and she doesn't try to rely on miracles. She's realistic, but she isn't a bundle of negativity, and I liked that.
The romance was light, but a good kind of light. It was one that builds up slowly – they're allies and have a lot more on their plate to worry about than love. Please excuse my laziness to walk upstairs and find my copy of Death Sworn for the exact quote, but I remember this one part when they begin realizing their feelings and Sorin freaks out and backs up a little, then says that basically meant that falling in love with Ileni was unavoidable, as she was the only girl he's ever seen. That made me laugh a little. I liked how they were honest and awkward and they fit each other so nicely.
I think the main thing though, was that Death Sworn was exactly my kind of book. Magic, assassins, light romance – you'd really have to screw up for me to dislike it. And what Death Sworn did was far from that.