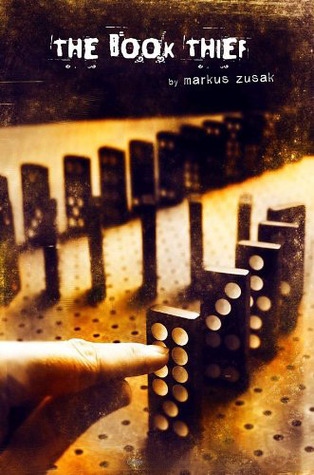 The Book Thief by Markus Zusak
Published March 14th 2006 by Knopf Books for Young Readers
Source: Borrowed
Rating: ★★★☆☆
A story about, among other things: A girl, some words, an accordionist, some fanatical Germans, a Jewish fist-fighter, and quite a lot of thievery. . . .an unforgettable story about the ability of books to feed the soul.
I feel kind of heartless writing this review. I guess that's the thing about books dealing with topics like these; I wanted so badly to say I bawled my eyes out after reading The Book Thief, or that it broke my heart into tiny, tiny pieces, or point to the mountain of tissues by my side but instead I'm sitting here a good chunk of time later, with no clue how to start.
Let's just start with: yes, this was sad. It's almost a given, seeing the topic. But it didn't strike any chords, didn't trigger the waterworks, and didn't make me want to read and re-read over and over again to savor the story. Yes, Zusak is a brilliant writer. He really knows how to craft sentences, everything is incredibly well-written, and his prose is probably the thing that convinced me to keep reading. But I felt very disconnected from the characters, the setting, the story.
One of the first things you'll hear about when people talk about The Book Thief is how it's narrated by Death. Which seems interesting until you actually read the story, and then you realize that Death's narrative is akin to placing me in front of a classroom filled with strangers, and giving me an hour to talk about a topic I've never researched: I'm going to ramble and stutter and repeat myself over and over again, and you're hardly going to be interested in, much less pay attention to, a good chunk of it. It was interesting at first. Every chapter or so Death would come in with these little interjections and offer us a little glimpse into the future or the past, or a random little musing that wouldn't quite seem so significant, but would make you curious enough to mull over. But it got old quickly. The thing about giving your readers little tidbits to mull over on the side is that it takes away from the actual story. The Book Theif was simultaneously trying to tug at your heartstrings with Liesel's story and bait you with tidbits and musings from Death, but didn't juggle the two carefully enough, resulting in an incredibly disjointed story, and a disconnected reader.
I loved the idea. The Book Thief is about the people on the "other side." I've read so many Holocaust novels from Jewish perspectives. Number the Stars by Lois Lowry was perhaps the first historical fiction novel in this time period that featured a different narrator. The Book Thief was the second, and I went in expecting something bigger, something deeper, but it pretty much just touts a everyone-in-the-army-is-evil mantra. Is it too much to say that I was hoping for something more? Needless to say, The Book Thief stayed small, safe, and disappointing. I feel like there were bigger things, bigger problems that The Book Thief only skimmed over. I mean, I know Liesel's still a child, and people probably made an effort to shield her from what they could, but Nazi Germany's reach was global. They were a Big Deal, but the The Book Thief pretty much disregarded that.
Next time I go into a book with this big and this wrong of an expectation, yell at me?
I liked it enough to finish it; The Book Thief was a decent novel. I really liked the "power of words" theme, and the characters, while not the most memorable cast I've ever "met," were solidly written. I liked the idea of a book thief (and, after misspelling it again and again in this review, I've learned that, unlike most of the words in the English language (?), it's spelled with "ie" and not "ei") and her scenes running around town.
I was, however, a little disappointed to find that, while she was called the "Book Thief," she only stole two or three books. With a title like that, I was thinking of thefts climbing into the double digits.
So, all in all, it was okay. I'll probably look up excerpts and quotes from time to time, because Markus Zusak's writing is lovely in that quiet kind of way. And while The Book Thief made a decent one-time read, it wasn't outstanding by any stretch, an apt bookstore-read, though I am glad I read it.