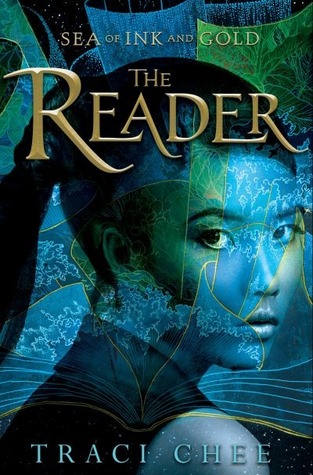 The Reader (Sea of Ink and Gold #1) by Traci Chee
Published September 13th 2016 by Putnam
Source: FC from Publisher
Rating: ★★★½☆
Once there was, and one day there will be. This is the beginning of every story.

Sefia lives her life on the run. After her father is viciously murdered, she flees to the forest with her aunt Nin, the only person left she can trust. They survive in the wilderness together, hunting and stealing what they need, forever looking over their shoulders for new threats. But when Nin is kidnapped, Sefia is suddenly on her own, with no way to know who's taken Nin or where she is. Her only clue is a strange rectangular object that once belonged to her father left behind, something she comes to realize is a book.

Though reading is unheard of in Sefia's world, she slowly learns, unearthing the book's closely guarded secrets, which may be the key to Nin's disappearance and discovering what really happened the day her father was killed. With no time to lose, and the unexpected help of swashbuckling pirates and an enigmatic stranger, Sefia sets out on a dangerous journey to rescue her aunt, using the book as her guide. In the end, she discovers what the book had been trying to tell her all along: Nothing is as it seems, and the end of her story is only the beginning.
I was on hiatus when all the buzz for The Reader happened, so I didn't actually know this existed until recently, but I'm glad I decided to pick this up! I was sold at "swashbuckling pirates and an enigmatic stranger," and the book proved to be a really fun read.
The writing's really suitable for fantasy – a little mysterious, a little lofty, a little wry, alternating between lines like "people passed stories from mouth to mouth like kisses, or plagues…" to characters huffing, "Yes, I'll read now. But if Captain Cat continues to act like a yellow-bellied coward, we're skipping it" (which by the way, is me at all the waffling main characters of numerous books. Get moving!!).
And really, reading the book was like a mini adventure or a treasure hunt of its own. I'm not sure if the book's design is the same across all editions, but I have the hardcover edition, and I love the little intricacies of the design! I don't want to give too much away, but just as the story dropped little fragments and clues and left the reader to gather them all up and piece them together at the end, so did the book's designs, which really added to the reading experience.
The setting is lush and sprawling across the pages, and the plot is rather intricately layered – it was really cool to see all the parts that I thought were insignificant and/or unrelated come together at the end – but if I had to pick a favorite, the experience of reading The Reader would be the best part. The Reader's just one of those books that just work really nicely in physical book form: the design is well-planned to match the story, and then the story sweeps you along so that every little thing about the design of the book in your hand is heightened by Sefia's experience with the book in her hand. And that was really pretty cool. Although I do have to mention – while it was lovely to see Sefia fall in love with books – eyes wide and dreamy, unlike my own 0 to 100 experience – the whole "this is a book" thing got repetitive after a while, and then annoying after that. So while I loved the idea of a book about books, there was a point where the novelty wore off. Maybe somewhere around here? –
"Reading herself in the book.
Reading herself reading herself in the book.
Reading herself reading herself reading herself…
Maybe someone was reading her right now, and if she looked up, she would see their eyes staring down at her, following her every move. Maybe someone was reading the reader."
(And then, a couple paragraphs later, cue: "THIS IS A BOOK." /sighs/)
I also really enjoyed the romance. Really, really enjoyed the romance. Maybe in part because it was light and fair and barely-there, given life by the plot instead of the other way around, as is common with a lot of reads. Mostly, though, because of Archer, resident cinnamon roll who could kill you, but is still a cinnamon roll who deserves all the love and happiness in this world because he's pure and deadly and sweet as fuck.
"He could not remember wanting anything so badly as he wanted to kiss her now. To be that close to her, mouth to mouth, testing the shapes of her teeth and her lips. It was as if he'd never really wanted anything, and now this wanting blazed inside him like a lamp, the light reflecting out of him as bright as a beam from a lighthouse.

But he didn't dare.

He looped his arms over the rails, and made his sign for the book.

And Sefia began to read to him, her voice clear and strong in the wind, and that was enough. It didn't matter what the book or the legends said. What mattered was that he and Sefia were there, legs kicking idly off the edge of the quarterdeck, with the breeze and the bright afternoon sun pouring over them. What mattered was that they were together… and he was happy."
Kind, lovely, cute, dangerous cinnamon roll. Yep.
I also really loved the chapter (section?) "The Boy from the Sea – Harison's Favorite Song," which was just three short stanzas but made me feel all sorts of bittersweet and sad, but I've already quoted two things and this review's already more than long enough as is, so: page 325 of the hardcover! Please read it.
I did have a few other small bones to pick with the book, though. For one, there were a couple glaring inconsistencies, most of which surrounding Sefia's book knowledge. I found it really strange that she didn't know about books and reading, but was somehow able to teach herself to read? I get that she remembered a little from what she'd seen from her parents when she was very little, but I can't imagine how she'd be able to come up with the proper sounds just by looking at letters she doesn't recognize? Also, she didn't know what a book was, but the word and meaning of a bookmark seemed to come to her very naturally… how?
And, then while it was pretty cool to have all the pirate inserts, and Lon's chapters… I felt like they weren't that necessary for the overarching plot? It was intriguing at the beginning, but as the story went on, they began to feel more and more like filler chapters – and I'll admit to skipping and skimming parts of them. If those parts were cut down a little, and more scenes were introduced into the climax, particularly around Tanin's big part, then I think the story would've read more cohesively and smoothly.
But overall, I loved the idea of a book celebrating the magic of books, and with the really lovely reading experience, The Reader delivered! And, one more quote to end this review, because I can't resist, and because this passage just stuck with me for a long time:
"I'd be lyin' if I said I didn't want to be part of that story… We got such a short time in this world, you know? Cut shorter by the blasted foolishness of men. Tavern brawls, rival outlaws, wars that claim the lives of thousands. Our existence is so small that most of us only matter to a handful of folks: the captain, the crew, maybe a couple others. But bein' part of a story like that? A story that'd blow all others outta the water in its greatness and scope? It wouldn't give me more time here, but if I were part of something like that, maybe my life wouldn't be so small. Maybe I could make a difference before my time ran out. Maybe I'd matter."