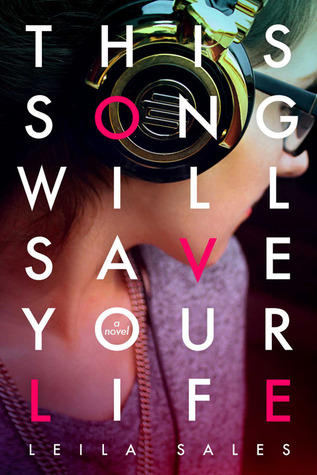 This Song Will Save Your Life by Leila Sales
Published September 17th 2013 by Farrar, Straus and Giroux (BYR)
Source: Traded
Rating: ★★☆☆☆
Making friends has never been Elise Dembowski's strong suit. All throughout her life, she's been the butt of every joke and the outsider in every conversation. When a final attempt at popularity fails, Elise nearly gives up. Then she stumbles upon a warehouse party where she meets Vicky, a girl in a band who accepts her; Char, a cute, yet mysterious disc jockey; Pippa, a carefree spirit from England; and most importantly, a love for DJing.
It's been so long since I've written a review, and I've pretty much forgotten how to do so. Gah. I was going to make this my first proper, thorough one, but the more I thought the angrier and more convoluted this review became, so I'm just going to keep this (relatively) short: I liked This Song Will Save Your Life, but I also really didn't like it.
I like the intent; I enjoyed the DJing; I really liked many parts of the overall message.
But I hated how Elise's attitude. She hated people judging her, but she kept judging other people and looked down on people who didn't share her interests. Elise sits alone with earphones plugged in and this holier-than-thou attitude – everyone who likes pop music is a brainless idiot? – and even goes as far as to scoff at her friends' likes and interests. She then turns around and harps on other people for their friendship choices, for being too judgy, and basically insinuates that she's not "cool" because everyone at her high school's too mindless, their interests too bland. Therefore she, as the one and only special snowflake, has to take her amazing gifts and talents elsewhere – a warehouse nightclub, with "cool older people" who fawn over and fluff her ego (true friendship). She's so self-centered and hypocritical and I just. I mean. Wow. Tone it down a little, yeah?
The ending contains little acknowledgement of her own missteps, and while I get that she's experienced a lot of hurt and loneliness, when she remains like so, unrepentant, for the great majority of the book, it's really hard for me to garner sympathy for her.