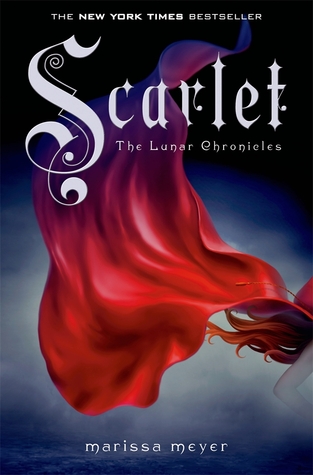 Scarlet (The Lunar Chronicles #2) by Marissa Meyer
Published February 5th 2013 by Feiwel & Friends
Source: Borrowed
Rating: ★½☆☆☆
Cinder, the cyborg mechanic, returns in the second thrilling installment of the bestselling Lunar Chronicles. She's trying to break out of prison—even though if she succeeds, she'll be the Commonwealth's most wanted fugitive.

Halfway around the world, Scarlet Benoit's grandmother is missing. When Scarlet encounters Wolf, a street fighter who may have information as to her grandmother's whereabouts, she is loath to trust this stranger, but is inexplicably drawn to him, and he to her. As Scarlet and Wolf unravel one mystery, they encounter another when they meet Cinder. Now, all of them must stay one step ahead of the vicious Lunar Queen Levana, who will do anything for the handsome Prince Kai to become her husband, her king, her prisoner.
I'm going to be honest here: probably the only reason why I finished Scarlet was because I read it during history (because I'm a perfect model student, didn't you know?). Because, really, anything is more interesting than history with a clueless substitute teacher. Even a story that nearly drove me to tears of boredom and frustration.
The most annoying thing about Scarlet was Cinder's identity. Or, rather, the other characters' inability to put together two and two and realize who Cinder was. I'm pretty close to crying, guys. Scarlet and Wolf were LOOKING for Princess Selene. By the end of the book, they KNEW the princess was secretly smuggled to earth and taken in by someone with the last name "Linh." They KNEW that a Lunar teenager had recently broken out of prison (don't tell me they didn't know there were so many broadcastings about it) with the last name "Linh." If they were really looking for Princess Selene, wouldn't they have been just a little suspicious? Then if they'd done the math, they would have realized that – surprise! – the escaped fugitive and the princess were around the same age. Don't even get me started on Captain Thorne (HE WAS WITH HER FOR THE LONGEST).
And KAI. It's been maybe a year since I've read Cinder, so I might be wrong, but I'm pretty sure that whole capture thing at the end of Cinder and the Lunar Queen (whose name I've conveniently forgotten) were huge clue-ins to Cinder's identity as Princess Selene. Of course, that's not the only fuck-up from him. His big decision at the end to "save everyone" made no sense whatsoever. Yeah, okay, Earth's going to be okay for a little bit. A couple years at most. But after that? It's going to be goodbye, Earth.
Cinder? It's best if you stick with Captain Throne. Granted, he isn't the sharpest knife in the drawer, but at least he hasn't doomed an entire planet. Yet.
That aside, the romance didn't raise any points for Scarlet, either. It wasn't terrible, I suppose. Just… lacking. There wasn't really any base for the romance. Since romance is one of the genres, it's pretty obvious that Scarlett and Wolf are going to get together, but when they do, it's pretty disappointing. One minute they're flinging fruits at each other and in the next they're kissing in a jail cell and there's literally no in-between.
The Queen's Army/wolf pack left me equally interested and confused. I will admit to skipping over some details and things towards the end because I just wanted the story to hurry up and end already, but even so… the hierarchal system and the wolf/man concept just seemed hazy and I felt so lost. Other little things confused me too, like the setting. Sometimes it took a while to figure out where they were because all the settings seemed so similar, and the narrative neglected to point out any landmarks or such for clarification.
Captain Thorne, inability to see what was dancing in neon lights right in front of his nose aside, was funny and witty, and generally I liked him. Cinder too had turned quite interesting and badass (I greatly preferred her narratives over Scarlet's). But that aside, there weren't very many redeeming points for Scarlet as far as I'm concerned.
The way my rating system's set up, I've described a one-star as "eh, don't bother" and a two-star as "interesting enough to finish, but too many flaws for my liking" – pretty much Goodread's "did not like it" and "liked it." So I'm setting Scarlett in the middle. I did finish it, but would only recommend it for people who really enjoyed Cinder. Then again, 86% of Goodread-ers gave Scarlett 4 and 5 stars, so I guess I'm the black sheep?
But there's my two cents ( ´ ▽ ` )ノ