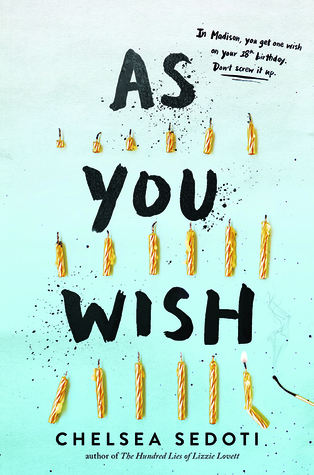 As You Wish by Chelsea Sedoti
Expected publication: January 2nd 2018 by Sourcebooks Fire
Source: ARC from Publisher
Rating: ★☆☆☆☆
What if you could ask for anything- and get it?

In the sandy Mojave Desert, Madison is a small town on the road between nothing and nowhere. But Eldon wouldn't want to live anywhere else, because in Madison, everyone gets one wish—and that wish always comes true.

Some people wish for money, some people wish for love, but Eldon has seen how wishes have broken the people around him. And with the lives of his family and friends in chaos, he's left with more questions than answers. Can he make their lives better? How can he be happy if the people around him aren't? And what hope is there for any of them if happiness isn't an achievable dream? Doubts build, leading Eldon to a more outlandish and scary thought: maybe you can't wish for happiness…maybe, just maybe, you have to make it for yourself.
How do I put this? I really like the concept of the new cover for As You Wish – it's really eye-catching and well thought out, and definitely something I'd put up on the wall. I wouldn't, however, buy a copy of the book itself for my bookshelf.
Reason number one: Eldon was a prick. A giant bag of dicks, if you will. He was also the main character, so you can see where that might present a bit of a problem. As You Wish opens with Eldon working his shift at the gas station, preening about how good-looking and charming he is while inwardly mocking the customers, and it's only downhill from there. Throughout the novel, he beats people up when things don't go his way, blames everyone else for his missteps, and inflates his insufferable ego. In all honesty, I'm surprised he has friends – he treats everyone around him terribly, and they just? Keep coming back? (Though granted, that entire town isn't exactly the most pleasant bunch either.) I get that his sister's in a coma, it sucks that he was dumped (though not for the reasons Eldon keeps assuming, which was also pretty shitty of him) and hey it kinda sucks that he's not in shape on the football field anymore BUT HI HELLO IT DOESN'T CHANGE THE FACT THAT
1) Eldon's an insufferable jerk.
2) Eldon needs to get over himself and grow up.
3) tRAGIC BACKSTORY DOESN'T EXCUSE AWFUL BEHAVIOR.
Oh, and get this: when he bumps into a drunk classmate, his first thought is that he cAN GET INTO HER PANTS BECAUSE SHE'S DRUNK. Then a short while later, he kisses a girl who didn't want to be kissed and feels indignant, then writes it off as being drunk. The victim-blaming is strong in this one and I wish I couldn't believe I'd actually read those scenes with my own two eyeballs. If anyone figures it out, do tell me when things were supposed to start to change because every sentence vaguely tied to him read as another nail in the proverbial coffin that housed Eldon's problematic self.
And on that note, this is a pretty long story and nothing happens for the first 90%? This book would've been a lot better if 90% of it hadn't been Eldon angsting over his wish and spewing his misogyny onto all the girls in his life – he didn't even spare his mom – while vehemently insisting otherwise. And when things do start happening… none of it makes any sense? Random characters appear out of nowhere and random bridges that Eldon burned magically repair themselves and suddenly everything's falling neatly into place except in a bizarrely disconnected way? I like plot-driven novels. I tend to like character-driven novels slightly more, so slow-moving plots to me are fine if the character's changing but this book? It was neither plot-driven nor character-driven. Or anything-driven, really. It barely moved, which is a pretty incredible feat for 430+ pages.
And, for all that talk about how people shouldn't attempt to play God, the attempted resolution was one very big attempt at playing God. It was also another shitty move by Eldon so. Congratulations, Eldon – you managed to make it through your "redemption" arc and get worse instead of better.
One more: okay so I was actually liking all the historical tidbits about other people who had made their wishes UNTIL we got to the part about someone who wished their gayness away and became romantically and sexually attracted to nobody, except the entire thing was written in an insultingly ace/aro-phobic way at which point WELP please leave.
Final verdict? I thought it was a cool idea and the author obviously had a lot to say, but the execution sorely missed the mark. I also do apologize if I got any of the chronological orders wrong in my review but I really didn't want to go back and pick through the book. Once was more than enough.