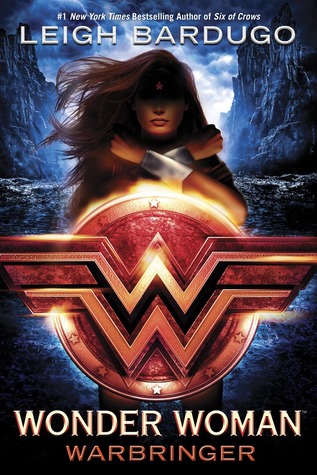 Wonder Woman: Warbringer (DC Icons #1) by Leigh Bardugo
Published August 29th 2017 by Random House Books for Young Readers
Source: Purchased
Rating: ★★★★☆
She will become one of the world's greatest heroes: WONDER WOMAN. But first she is Diana, Princess of the Amazons. And her fight is just beginning. . . .

Diana longs to prove herself to her legendary warrior sisters. But when the opportunity finally comes, she throws away her chance at glory and breaks Amazon law—risking exile—to save a mere mortal. Even worse, Alia Keralis is no ordinary girl and with this single brave act, Diana may have doomed the world.

Alia just wanted to escape her overprotective brother with a semester at sea. She doesn't know she is being hunted. When a bomb detonates aboard her ship, Alia is rescued by a mysterious girl of extraordinary strength and forced to confront a horrible truth: Alia is a Warbringer—a direct descendant of the infamous Helen of Troy, fated to bring about an age of bloodshed and misery.

Together, Diana and Alia will face an army of enemies—mortal and divine—determined to either destroy or possess the Warbringer. If they have any hope of saving both their worlds, they will have to stand side by side against the tide of war.
"Diana said nothing. If her reading on politics had taught her anything, even a loyal man might be swayed under the right circumstances."
This book made me want to split trees with my bare hands or oust the president or something.
You know, to be honest I wasn't entirely sold on this when I first heard about it? Like I just watched Wonder Woman (movies come out late as fuck in Japan /sobs/) in theaters, and I was a little dubious about how the author would pull off an original, memorable take on a fan-favorite character. But she did it! And it was really good? And she also became the first author whose signing I went to. (It was hilarious – 10/10 would recommend going to see her because Leigh Bardugo is really, really great) I'm actually a little shocked I managed to drag myself there because it was late and cold and far and rainy but hey, if you're paying the ridiculous NYC rent fees, might as well get the most out of your time in the city, right?
And, like with Shadow and Bone – though, granted, these two are the only two Leigh Bardugo books I've read – there's something about the plot of the story that, even towards the end of the book, I'm never entirely sold on. But then, hand in hand, there's something about her writing? There's something about all those witty one-liners (ooooh boy) and the world building and there's something about the way the author writes and crafters her characters that pulls everything together and makes me enjoy the book just the same. I'm so conflicted because it's been two books by Leigh Bardugo now and I didn't enjoy them as much as I could've but at the same time I really enjoyed them and I don't know how to explain why.
But (please forgive my rambling) this one was good! /thumbs up/
I really liked how diverse and quirky and strong the cast of characters were! While I wasn't deeply and irrevocably emotionally attached to any of them, they all left really strong impressions – they were splintered at times and together at others, close and open to each other yet at the same time complete mysteries to one another. No two were the same. I loved the relationships between them (strong female friendships represent!) and the complexity of each character – even the ones that didn't get as much page time. This is the kind of cast you'd want to weather out a series with (Theoooo). This is the kind of cast you'd want to go on some apocalypse-preventing, humanity-saving, adventure-of-your-life with.
Another thing I was kinda iffy about, on the other hand: the author has this thing (and I say thing with full confidence because I've… read… two of her books…? shifty eyes clears throat right okay so) she does with male leads that I'm not super on board with? Both times, it's been awkward and unlike the character and super cringy where it should've been super shocking.
Final verdict? I enjoyed Wonder Woman: Warbringer! Immensely. And I'm still confused and I spent something like 3300+ words rambling to no conclusion about how I feel iffy about a few prominent things and really like Leigh Bardugo's books at the same time but. In any case.
This book?
I'm a fan.
""I bet I could convince you."
"How?"
"Let's just say I don't get many complaints."
"From your lovers?"
The man blinked. He had sandy hair and freckles on his nose. "Uh, yeah." He grinned again. "From my lovers."
"It's possible they refrain from complaining in order to spare your feelings."
"What?"
"Perhaps if you could keep a woman, you'd have less call to proposition strangers."