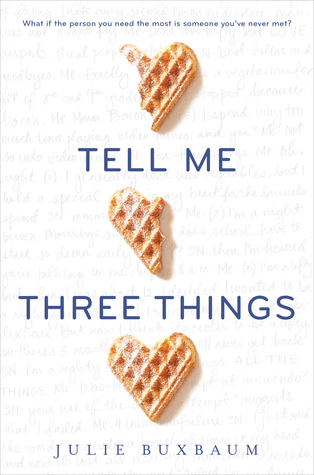 Tell Me Three Things by Julie Buxbaum
Published April 5th 2016
Source: Purchased
Rating: ★★★½☆
Everything about Jessie is wrong. At least, that's what it feels like during her first week of junior year at her new ultra-intimidating prep school in Los Angeles. Just when she's thinking about hightailing it back to Chicago, she gets an email from a person calling themselves Somebody/Nobody (SN for short), offering to help her navigate the wilds of Wood Valley High School. Is it an elaborate hoax? Or can she rely on SN for some much-needed help?

It's been barely two years since her mother's death, and because her father eloped with a woman he met online, Jessie has been forced to move across the country to live with her stepmonster and her pretentious teenage son.

In a leap of faith—or an act of complete desperation—Jessie begins to rely on SN, and SN quickly becomes her lifeline and closest ally. Jessie can't help wanting to meet SN in person. But are some mysteries better left unsolved?
If it were me and I got a random email like that, especially from someone calling themselves Somebody/Nobody? It would've gone straight in the trash. Which is also probably why Jessie's the main character of this novel, and I'm sitting here writing about it.
Overall, Tell Me Three Things was really cute and engaging! The falling in love through the written word thing gets me every single time – it's probably my most searched fanfic tag and I love the idea to death – and it was no different here. Theo was my favorite character overall, and I really enjoyed seeing how his relationship with Jessie developed over the novel. The treatment of Jessie's stepmother, in the latter half of the book had me pleasantly surprised, and I liked how, even though you can kind of guess who the mystery SN is, there are moments here and there that brings about doubt and uncertainty. I thought Ethan was kind of creepy and weird though. Sorry? There was all this stuff he did and said that I know was supposed to come off as sensitive, cute, considerate, or all of the above, but it all just rubbed me the wrong way. He was pretty main, though, and so, primarily because of him, every time I started really getting into Tell Me Three Things, and every time I thought the story was starting to get really really good, it would faceplant into something ridiculous and/or cringey and a little part of me just died.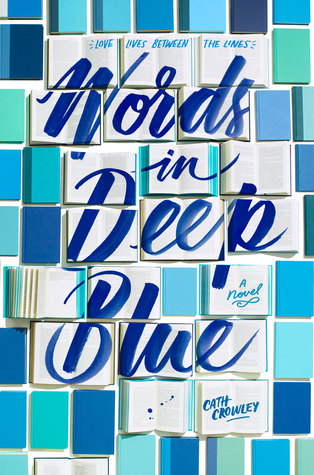 Words in Deep Blue by Cath Crowley
Published June 6th 2017 by Knopf Books for Young Readers
Source: Purchased
Rating: ★★★☆☆
Love lives between the lines.

Years ago, Rachel had a crush on Henry Jones. The day before she moved away, she tucked a love letter into his favorite book in his family's bookshop. She waited. But Henry never came.

Now Rachel has returned to the city—and to the bookshop—to work alongside the boy she'd rather not see, if at all possible, for the rest of her life. But Rachel needs the distraction, and the escape. Her brother drowned months ago, and she can't feel anything anymore. She can't see her future.

Henry's future isn't looking too promising, either. His girlfriend dumped him. The bookstore is slipping away. And his family is breaking apart.

As Henry and Rachel work side by side—surrounded by books, watching love stories unfold, exchanging letters between the pages—they find hope in each other. Because life may be uncontrollable, even unbearable sometimes. But it's possible that words, and love, and second chances are enough.
"But I love you, and before you say it words do matter. They're not pointless. If they were pointless then they couldn't start revolutions and they wouldn't change history and they wouldn't be the things that you think about every night before you go to sleep. If they were just words we wouldn't listen to songs, we wouldn't beg to be read to when we're kids. If they were just words, then they'd have no meaning and stories wouldn't have been around since before humans could write. We wouldn't have learned to write. If they were just words then people wouldn't fall in love because of them, feel bad because of them, ache because of them, stop aching because of them, have sex, quite a lot of the time, because of them."
Cath Crowley writes beautiful books. I've read two and a half now – snippets of A Little Wanting Song, Graffiti Moon in its entirety, and now Words in Deep Blue. They've all been quiet, lyrical sorts of reads, and it's really highlighted in Words in Deep Blue with the Letters Library, which was a really cool touch. It was probably my favorite part of the story, actually: I loved reading all the letters, tucked between chapters of the story just as they would've been in the actual Letters Library, and Cath Crowley's writing really shines through the most here because every single letter's so delicate and lovely, especially George's exchanges with "Pytheas."
But while I really like the letters, I felt this huge disconnect with the rest of the story. Mainly because I couldn't bring myself to care much for Rachel, and Henry was an asshole, and I couldn't figure out what Rachel saw in him? Which was a downer. The rest of this book read as a gorgeous love letter of sorts to books and the written word, and then Rachel and Henry's parts basically tracked mud all over that letter.
Ask Again Later by Liz Czukas
Published March 11th 2014 by Harper Teen
Source: Purchased
Rating: ★★★★☆
Despite what her name might suggest, Heart has zero interest in complicated romance. So when her brilliant plan to go to prom with a group of friends is disrupted by two surprise invites, Heart knows there's only one drama-free solution: flip a coin.

Heads: The jock. He might spend all night staring at his ex or throw up in the limo, but how bad can her brother's best friend really be?

Tails: The theater geek…with a secret. What could be better than a guy who shares all Heart's interests–even if he wants to share all his feelings?

Heart's simple coin flip has somehow given her the chance to live out both dates. But where her prom night ends up might be the most surprising thing of all…
I thought this was really cute! It was the perfect read for my mood – fluffy, a little silly, and plenty adorable. The two routes writing style hardly ever works for me but Ask Again Later is one of the few exceptions. I can't say I thought it was the best way to go as it still threw me off a little especially in the first half, but the author made it work, and I thought the ending was super sweet and satisfying.
Spellbinding by Maya Gold
Published April 1st 2013 by Scholastic Point
Source: Library
Rating: ★☆☆☆☆
There's more than one way to be powerful . . .

It is during a routine school project that Abby Silva–sixteen and nearly friendless–makes a startling discovery: She is descended from women who were accused of witchcraft back in 1600s Salem. And when Abby visits nearby Salem, strange, inexplicable events start to unfold. Objects move when she wills them to. Candles burst into sudden flame. And an ancient spellbook somehow winds up in her possession.

Trying to harness her newfound power, Abby concocts a love potion to win over her longtime crush–and exact revenge upon his cruel, bullying girlfriend. But old magic is not to be trifled with. Soon, Abby is thrust headlong into a world of hexes, secrets, and danger. And then there's Rem Anders, the beautiful, mysterious Salem boy who seems to know more about Abby than he first lets on.

A reckoning is coming, and Abby will have to make sense of her history–and her heart–before she can face the powerful truth.
A quick read, almost painfully ridiculous for the most part, with ridiculously obvious "twists." I'm not exactly the best at spotting plot twists, so when I can make a fair shot at mapping out the story – "unpredictable" twists and all – from almost the get-go, that should be a huge warning sign. And forget pulling cliches out of a hat – it felt as if the author just sat down and emptied it all out onto the story.