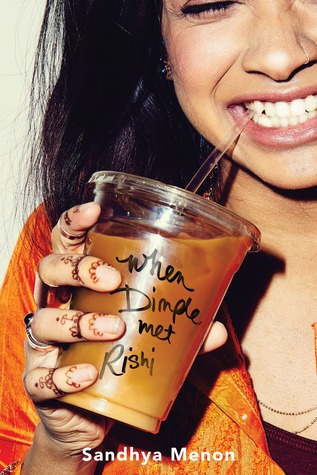 When Dimple Met Rishi by Sandhya Menon
Published May 30th 2017 by Simon Pulse
Source: Purchased
Rating: ★★★★☆
Dimple Shah has it all figured out. With graduation behind her, she's more than ready for a break from her family, from Mamma's inexplicable obsession with her finding the "Ideal Indian Husband." Ugh. Dimple knows they must respect her principles on some level, though. If they truly believed she needed a husband right now, they wouldn't have paid for her to attend a summer program for aspiring web developers…right?

Rishi Patel is a hopeless romantic. So when his parents tell him that his future wife will be attending the same summer program as him—wherein he'll have to woo her—he's totally on board. Because as silly as it sounds to most people in his life, Rishi wants to be arranged, believes in the power of tradition, stability, and being a part of something much bigger than himself.

The Shahs and Patels didn't mean to start turning the wheels on this "suggested arrangement" so early in their children's lives, but when they noticed them both gravitate toward the same summer program, they figured, Why not?

Dimple and Rishi may think they have each other figured out. But when opposites clash, love works hard to prove itself in the most unexpected ways.
When Dimple Met Rishi was really, really cute. It was a little dramatic, awkward, bumbly, and just. Adorable. Gah.
What do I even say – I love how unapologetically Dimple and Rishi the two leads were. Dimple was Dimple; Rishi was Rishi; they had their own culture, their own views, their own ambitions, their own lives, and it shone through every sentence on every page.
I can't really say anything as to the accuracy of the representation of Indian culture – though I really love how it was written in: steeped into the pages, but naturally so – but as an American with a foreign family background myself, there were a lot of things that both Dimple and Rishi felt that just really hit home for me. I could spend thousands of words and still not accurately convey that sense of comfort, almost relief, at seeing so many of the sentiments I thought about, struggled with, and even cried over printed out onto an actual physical book I held in my hands. I was going to quote a conversation that Rishi and Dimple had about embracing their heritage, but it was too long – basically, they were talking about how to keep both sides of being Indian American, and Dimple recalls how some people in India had kind of outcasted her and called her a foreigner, and Rishi recalls how he sometimes feels like he culturally belongs somewhere, but doesn't belong socially, and they of bond on the uncertainty of it all. And I just. My heart squeezed. I related so much; this is the kind of book we need, you know? I can only imagine how much more important and meaningful it would read to someone who was actually Indian American. There's also this part of the conversation I summarized in which Rishi mentions going through this whole phase in middle school where he called himself "Rick" and it was this small thing mentioned in passing but fuck, it hit home so hard.
And.
Well.
Wow.
I really admire Dimple's resolve and ambition; I really admire Rishi's ability to be Rishi, certainly, as awkward and adorkable as he sometimes is. I love the dynamic between the two (as well as Ashish later on – you can bet I'll definitely keep an eye out for his book). And I love how the story flowed – from fiery and strong to awkward and cringey to cutesy, and then back around again. There were so many different thoughts and views and lives etched out across the pages, and it made the story feel all the more real.
I couldn't really rate When Dimple Met Rishi five stars, though. As much as I loved so many aspects of, as well as much of the story, I thought that it did take a tumble toward the end: there were a couple very obvious, incredibly unrealistic moves to gather up all the loose ends, and Dimple and Rishi's characters lost some their sparks.
But it's definitely a four-star read. I didn't think I'd enjoy this nearly as much as I did, but so much of this was so well-crafted, so much of this resonated with me way too much, and I just. Yes.