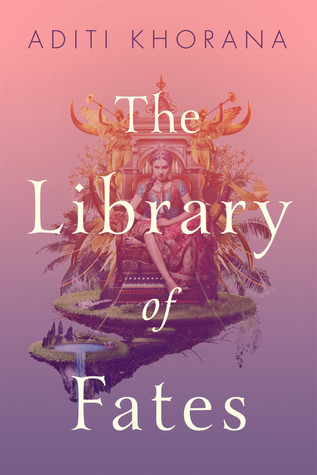 The Library of Fates by Aditi Khorana
Published July 18th 2017 by Razorbill
Source: ARC Traded
Rating: ★★½☆☆
No one is entirely certain what brings the Emperor Sikander to Shalingar. Until now, the idyllic kingdom has been immune to his many violent conquests. To keep the visit friendly, Princess Amrita has offered herself as his bride, sacrificing everything—family, her childhood love, and her freedom—to save her people. But her offer isn't enough.

The palace is soon under siege, and Amrita finds herself a fugitive, utterly alone but for an oracle named Thala, who was kept by Sikander as a slave and managed to escape amid the chaos. With nothing and no one else to turn to, Amrita and Thala are forced to rely on each other. But while Amrita feels responsible for her kingdom and sets out to warn her people, the newly free Thala has no such ties. She encourages Amrita to go on a quest to find the fabled Library of All Things, where it is possible for each of them to reverse their fates. To go back to before Sikander took everything from them.

Stripped of all that she loves, caught between her rosy past and an unknown future, will Amrita be able to restore what was lost, or does another life—and another love—await?
The cover is absolutely lovely – I love the pink-to-purple ombre! Inside, The Library of Fates tells the story of a girl shaken from her everyday life; the entrance of a tyrant; reincarnation and a race to rescue her family and her kingdom. The incorporation of Indian mythology is rich and immersive, and though the story isn't anything new, the writing is quiet and beautiful and draws its own course. And as for the plot? The Library of Fates read as a gorgeous fairytale of sorts, an adventure at the very least, at the beginning. However, toward the latter half, things took a rather scattered and confusing turn, which I really probably would've been okay with had it not also come with Amrita's love interest, one of the more abrupt instaloves I've come across this year (his appearance also made me super sad because you could feel genuine chemistry between Amrita and her childhood friend! I was rooting for them! But I digress), and too many awfully convenient plot points for the main character. It wasn't an awful read by any means, but neither was it a particularly great one.
The Islands of Chaldea by Diana Wynne Jones, Ursula Jones
Published February 27th 2014 by HarperCollins Children's Books
Source: Purchased
Rating: ★★☆☆☆
Aileen was supposed to grow up magical – just like the other women in her family. Unfortunately, she's just found out that the magic seems to have skipped a generation… but that's not her biggest problem right now.

In her world, there are four Islands of Chaldea. The largest and most magical island has been cut off from the other three for decades – and is slowly draining the magic from them.

But now a prophecy has come to light. Someone from Aileen's island will gather a man from each of the three islands, bring down the magical barrier, and unite them with the fourth island again. And according to the king, that someone is Aileen's Aunt – who insists on dragging Aileen along. AND the boy Aileen is sure she'll marry (one day); the local boy with more brawn then brain. Someone seems to want to stop them too… someone with an interest in keeping the Islands apart. But still, with magic on their side, nothing can go wrong. Right?
It was okay… there were points here and there when the story was really fun to read, and I did like the cast of characters! But the plot also dragged in a lot of places and took a lot of meandering detours, and I ended up skimming through a good portion of the middle… Hm.
This did make me really nostalgic for Howl's Moving Castle, though, and I didn't know there were two more books in that series! This is probably not the thing to say when my reading pile's literally toppling off my table, but I want… I want…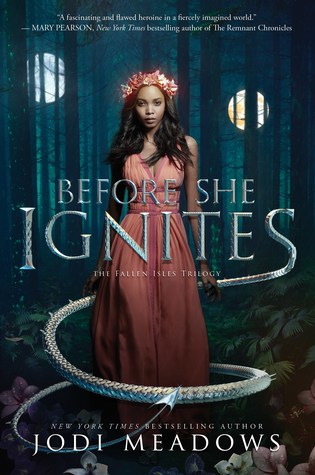 Before She Ignites (Fallen Isles Trilogy #1) by Jodi Meadows
Published September 12th 2017 by Katherine Tegen Books
Source: Purchased (Owlcrate!)
Rating: ★★☆☆☆
Before

Mira Minkoba is the Hopebearer. Since the day she was born, she's been told she's special. Important. Perfect. She's known across the Fallen Isles not just for her beauty, but for the Mira Treaty named after her, a peace agreement which united the seven islands against their enemies on the mainland.

But Mira has never felt as perfect as everyone says. She counts compulsively. She struggles with crippling anxiety. And she's far too interested in dragons for a girl of her station.

After

Then Mira discovers an explosive secret that challenges everything she and the Treaty stand for. Betrayed by the very people she spent her life serving, Mira is sentenced to the Pit–the deadliest prison in the Fallen Isles. There, a cruel guard would do anything to discover the secret she would die to protect.

No longer beholden to those who betrayed her, Mira must learn to survive on her own and unearth the dark truths about the Fallen Isles–and herself–before her very world begins to collapse.
There's not that much to say about Before She Ignites. It wasn't an explosive read on either end of the spectrum. Really, it read like a prequel of sorts? A set-up for future books in the series. "Illegal dragon trafficking" sounded right up my alley (DRAGONS!!), but everything turned out to be pretty shallow, and the before/after time skips didn't really help the story along, so much as it did provide filler scenes between already-filler scenes. I did like the dynamic between a lot of the prisoners, and it was so, so nice to see this kind of mental health rep in YA fantasy. But also… a good chunk of the story in Before She Ignites turned out to follow Mira wandering around the prison and telling herself her parents will come save her soon – where were the dragons??
Glass Sword (Red Queen #2) by Victoria Aveyard
Published February 9th 2016 by HarperTeen
Source: Purchased
Rating: ★★☆☆☆
If there's one thing Mare Barrow knows, it's that she's different.

Mare Barrow's blood is red—the color of common folk—but her Silver ability, the power to control lightning, has turned her into a weapon that the royal court tries to control.

The crown calls her an impossibility, a fake, but as she makes her escape from Maven, the prince—the friend—who betrayed her, Mare uncovers something startling: she is not the only one of her kind.

Pursued by Maven, now a vindictive king, Mare sets out to find and recruit other Red-and-Silver fighters to join in the struggle against her oppressors.

But Mare finds herself on a deadly path, at risk of becoming exactly the kind of monster she is trying to defeat.

Will she shatter under the weight of the lives that are the cost of rebellion? Or have treachery and betrayal hardened her forever?

The electrifying next installment in the Red Queen series escalates the struggle between the growing rebel army and the blood-segregated world they've always known—and pits Mare against the darkness that has grown in her soul.
Mare's mantras of "I am special" and "I am the lightning girl" really grated on me (please get over yourself?), as did the quasi love-square (CAL AND KILORN DESERVE SO MUCH MORE) thing, and the second half was pretty much just a repeat of the first half in a different setting, but tHE ENDING. Thanks, Glass Sword, for reminding me of how weak I am to cliffhangers. Onto King's Cage it is, then.