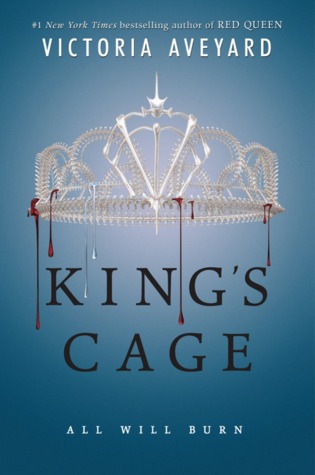 King's Cage (Red Queen, #3) by Victoria Aveyard
Published February 7th 2017 by HarperTeen
Source: Borrowed
Rating: ★★☆☆☆
Mare Barrow is a prisoner, powerless without her lightning, tormented by her lethal mistakes. She lives at the mercy of a boy she once loved, a boy made of lies and betrayal. Now a king, Maven Calore continues weaving his dead mother's web in an attempt to maintain control over his country—and his prisoner.

As Mare bears the weight of Silent Stone in the palace, her once-ragtag band of newbloods and Reds continue organizing, training, and expanding. They prepare for war, no longer able to linger in the shadows. And Cal, the exiled prince with his own claim on Mare's heart, will stop at nothing to bring her back.

When blood turns on blood, and ability on ability, there may be no one left to put out the fire—leaving Norta as Mare knows it to burn all the way down.
Wheeere oh where has the plot gone? I'm pretty sure you could've rolled Glass Sword and King's Cage into one book and wrapped up the series as a trilogy.
So here's the thing: I can see why everyone likes this series so much. It's formulaic and there's not one part of the series that hasn't been done before, but all parts of the series have been done before and worked, and now we have the Red Queen series. And it's clearly working for a lot of people. It worked for me in the beginning, too – I really liked Red Queen. But then the series started to miss the mark.
King's Cage is one giant filler scene; the writing's trying too hard to load itself up with quotable one-liners and snarky exchanges; all the secondary characters are flat, dull, and forgettable; 500 pages isn't quite enough to contain the annoyance that is Mare's inflated ego.
The upside? While reading Glass Sword, I thought that this series would turn into a Nightshade kind of situation for me, when the only character I liked ended up dead at the end of the series (THE VERY END OF THE SERIES) but hey, King's Cage got me starting to like another character, so the odds are looking a little better? Marginally? So half a star for that shaky assurance, one star for the scene where Cal and The Scarlett Guard rescued Mare (YEEEEEEEESSS), and another half star because fuck it, I'm still holding out for a Maven comeback, or for Cal to regain all that character I liked about him that he lost.