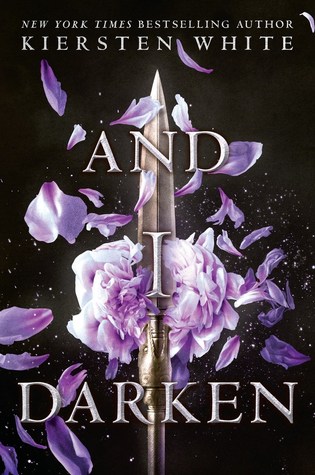 And I Darken (The Conqueror's Saga #1) by Kiersten White
Published June 28th 2016 by Delacorte Press
Source: Library
Rating: ★★☆☆☆
No one expects a princess to be brutal. And Lada Dragwlya likes it that way. Ever since she and her gentle younger brother, Radu, were wrenched from their homeland of Wallachia and abandoned by their father to be raised in the Ottoman courts, Lada has known that being ruthless is the key to survival. She and Radu are doomed to act as pawns in a vicious game, an unseen sword hovering over their every move. For the lineage that makes them special also makes them targets.

Lada despises the Ottomans and bides her time, planning her vengeance for the day when she can return to Wallachia and claim her birthright. Radu longs only for a place where he feels safe. And when they meet Mehmed, the defiant and lonely son of the sultan, Radu feels that he's made a true friend—and Lada wonders if she's finally found someone worthy of her passion.

But Mehmed is heir to the very empire that Lada has sworn to fight against—and that Radu now considers home. Together, Lada, Radu, and Mehmed form a toxic triangle that strains the bonds of love and loyalty to the breaking point.
I saw this at the library and picked it up on a whim – I remember seeing this everywhere at one point and was a little curious. It didn't occur to me until later that this Kiersten White was also the Kiersten White who wrote Paranormalcy and Mind Games, and. Wooooah. Her writing's gotten so, so much better. The beginning was intense and atmospheric and engaging! The middle, though, felt like wading through molasses. The plot putters along under the weight of all these extra tidbits and tangents that I know contribute to future plot points and characters, but! But! The book is at a fairly hefty ~500 pages, with little more than some nicely arranged words to show for a good 300 pages at least, and without an interesting enough plot to motivate. And the decisions on the portrayal of history? I'm hardly an expert, and many have explained the missteps better than I ever could. I'll just. Yikes.
Archangel's Blade (Guild Hunter #4) by Nalini Singh
Published September 8th 2011 by Gollancz
Source: Library
Rating: ★★☆☆☆
The severed head marked by a distinctive tattoo on its cheek should have been a Guild case, but dark instincts honed over hundreds of years of life compel the vampire Dmitri to take control. There is something twisted about this death, something that whispers of centuries long past…but Dmitri's need to discover the truth is nothing to the vicious strength of his response to the hunter assigned to decipher the tattoo.

Savaged in a brutal attack that almost killed her, Honor is nowhere near ready to come face to face with the seductive vampire who is an archangel's right hand and who wears his cruelty as boldly as his lethal sensuality…the same vampire who has been her secret obsession since the day she was old enough to understand the inexplicable, violent emotions he aroused in her.

As desire turns into a dangerous compulsion that might destroy them both, it becomes clear the past will not stay buried. Something is hunting and it will not stop until it brings a blood-soaked nightmare to life once more…
I wasn't a huge fan at the beginning, but it did pick up a lot once the book went on… only to spiral into NOPENOPENOPE at the end because fuck that bullshit plot point. Dimitri and Honor deserve better.
Archangel's Storm (Guild Hunter #5) by Nalini Singh
Published September 13th 2012 by Gollancz
Source: Library
Rating: ★★★☆☆
With wings of midnight and an affinity for shadows, Jason courts darkness. But now, with the Archangel Neha's consort lying murdered in the jewel-studded palace that was his prison and her rage threatening cataclysmic devastation, Jason steps into the light, knowing he must unearth the murderer before it is too late.

Earning Neha's trust comes at a price—Jason must tie himself to her bloodline through the Princess Mahiya, a woman with secrets so dangerous, she trusts no one. Least of all an enemy spymaster.

With only their relentless hunt for a violent, intelligent killer to unite them, Jason and Mahiya embark on a quest that leads to a centuries-old nightmare… and to the dark storm of an unexpected passion that threatens to drench them both in blood.
I was super curious about Jason so this turned out to be a little disappointing. He and Mahiya had so much potential! The book was on this upward curve and it was gETTING BETTER but then the ending was so terribly bland and I was terribly disappointed. (Also we could've done without all the Dimitri/Honor snippets and still been happy, thank you very much – it's the whole Jason/Mahiya ending part we're missing. Where did that ending putter off to? Where??)