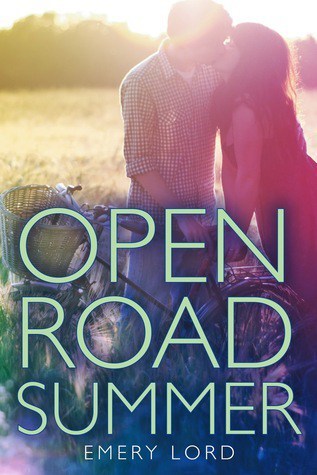 Open Road Summer by Emery Lord
Published April 15th 2014 by Walker Childrens
Source: Purchased
Rating: ★★★★☆
After breaking up with her bad-news boyfriend, Reagan O'Neill is ready to leave her rebellious ways behind. . . and her best friend, country superstar Lilah Montgomery, is nursing a broken heart of her own.

Fortunately, Lilah's 24-city tour is about to kick off, offering a perfect opportunity for a girls-only summer of break-up ballads and healing hearts. But when Matt Finch joins the tour as its opening act, his boy-next-door charm proves difficult for Reagan to resist, despite her vow to live a drama-free existence.

This summer, Reagan and Lilah will navigate the ups and downs of fame and friendship as they come to see that giving your heart to the right person is always a risk worth taking.
The first thing Open Road Summer did was make me feel really nostalgic for country-era Taylor Swift. Think Jump Then Fall, Sparks Fly, Speak Now. Open Road Summer doesn't quite carry the same vibe – it's far less hopeless romantic-like – but something about it still reminds me of my Taylor Swift phase back in middle school. Or maybe Lady Antebellum and Rascal Flatts? Anyhow.
"Laughter feels like our flotation device – it won't pull us out of the storm, but it might carry us through, if we can just hang on."
The very best thing about Open Road Summer was Reagan's friendship with Dee. I love it to pieces, and I would read every single one of Emery Lord's books if they all contained friendships like this. Seriously. Their wasn't perfect and they rattled each other at times but they never shut each other out and they just got each other, you know? It made me think of the saying – how it's better to have one true friend than a dozen distant ones. Dee is so precious and wholesome and down-to-earth and sweet and adorable, and I like how she's there to smooth down a lot of Reagan's rough edges bUT ALSo I think Reagan really complements her as well, and is there to provide for some of the edges Dee doesn't have but needs at times. It's a really sweet relationship. It's a two-way street. So. Freaking. Friendship goals. Right here. Reagan and Dee. These are the kinds of friendships I want to read more of.
And then there's Matt Finch and-
""I," he says, plunking his strawberry-fest down on the counter, "didn't realize you were a soccer mom justifying her chocolate craving with the fact that raisins are a fruit."
Matt Finch hits back. I like it."
SO DO I. Matt Finch is the epitome of the sweet boy-next-door type: charming and attentive and witty and sweet. And I can't help but root for him and Reagan because the chemistry's very much there and wow I am so sorry for all the run-on sentences in this review but I'm kind of really blown away by the main characters and their relationships and Matt and Reagan made me feel all warm and gooey inside and I AM ALL HERE FOR THIS. The banter between him and Reagan was super fun to read, and I really liked the three main characters.
I liked how everyone seemed super normal! Matt was super chill and Dee was super sweet and they were just… people. I mean, duh, Chri – celebrities are people too. But sometimes we forget that? And granted I've only read a few contemporaries with celebrities, but they always seem larger-than-life, like caricatures of human beings. So it was really nice to see a book about romance and summer and celebrities that placed everything in a normal light.
Also. Brenda. Can we talk about Brenda for a moment? Because I really liked Brenda. Maybe because I'm also more of the "practical type" as Reagan puts it, but I think I can empathize with her quite a bit? I felt really bad for her amidst all the mud Reagan was slinging at her in the beginning. I can get why Reagan would feel that way, but also because I'm more similar to Brenda than Reagan, I can get why Brenda's actions were as they were. Brenda and her relationship with Reagen was an example of how wonderfully complex and how much change happened over the course of Open Road Summer, and I loved that scene toward the end with Brenda and Reagan. Things are never going to be 100% okay for everyone but it's the effort and the thought that counts. And it was really nice to see Brenda finally speak up about how she was feeling. And it was really nice to see Reagan start to look at things from Brenda's perspective. That was nice.
I really liked that.
(Also fucking props to Corinne because she made an undeniably shit move and though it doesn't excuse what she did, I'm very much impressed by her persistence in knocking on the front doors of multiple O'Neill families just to find Reagan and apologize.)
AND WHILE WE'RE ON THAT TOPIC, the main reason why this rating won't ever budge any higher despite me loving so much of it is because of the ridiculous amounts of girl-hate scattered throughout the book. Everything else was sO NICE and I actually liked Reagan's character? Not in the way that I approved of and endorsed everything she did, but I liked her prickly exterior and her vulnerabilities. I liked that she seemed tough and snarky but wasn't without flaws, and that she was willing to open up about them. But goddamn, all the girl-hate. Brenda definitely wasn't spared. Dee's publicist was slandered in every sentence she was mentioned in. Dee and Dee's mother were the only two girls I think that came out of the book 100% unscathed. All the other girls, even if they only had one sentence to their name, had their appearance tagged with some sort of scathing, derogatory, or otherwise insulting remark. Every other girl in the story was, at one point or another, most often at every mention in the story, completely and utterly slandered by Reagan – for being slutty, for being gross, for being floozy, for being dumb, for being ugly, you name it. I can see where you can argue that it shows Reagan's character development, as there are points where you can see her changing and reflecting. But the sheer volume and magnitude of it was just… Was that really necessary? (It wasn't. It really, really wasn't.)
But all in all, Open Road Summer was a highly enjoyable read. I'd heard great things about it, and Emery Lord is a blessing on my Twitter feed so I was all sorts of excited to read it, and it lived up to the hype! It was definitely one of my better reads of 2017, and I just went to the bookstore so I'm going to do my best not to drop by until the end of the month at least (restraintrestraintrestraintrestraaaaint) but I'm definitely going to pick up more of the author's books when I get the chance!