The Distance Between Lost and Found by Kathryn Holmes
Published February 17th 2015 by HarperTeen
Source: Won
Rating: ★★★☆☆
Ever since the night of the incident with Luke Willis, the preacher's son, sophomore Hallelujah Calhoun has been silent. When the rumors swirled around school, she was silent. When her parents grounded her, she was silent. When her friends abandoned her… silent.

Now, six months later, on a youth group retreat in the Smoky Mountains, Hallie still can't find a voice to answer the taunting. Shame and embarrassment haunt her, while Luke keeps coming up with new ways to humiliate her. Not even meeting Rachel, an outgoing newcomer who isn't aware of her past, can pull Hallie out of her shell. Being on the defensive for so long has left her raw, and she doesn't know who to trust.

On a group hike, the incessant bullying pushes Hallie to her limit. When Hallie, Rachel, and Hallie's former friend Jonah get separated from the rest of the group, the situation quickly turns dire. Stranded in the wilderness, the three have no choice but to band together.

With past betrayals and harrowing obstacles in their way, Hallie fears they'll never reach safety. Could speaking up about the night that changed everything close the distance between being lost and found? Or has she traveled too far to come back?
I usually don't read religious books. It's just a personal thing, really. And it feels kind of stupid to say this know, seeing as the synopsis does mention Luke's the pastor's son, and Hallie's name being Hallelujah should've told me something, but I didn't know religion would play such a huge part? That aside, I did find myself enjoying the other parts of the novel. The writing was quiet and beautiful, and I loved the character development Hallie went through: she's so, so brave, and the book's rather quick and short, but even so, the characters are well fleshed out. Hallie's hard to like at first, but as the story goes on I found myself sympathetic towards and rooting for her just the same. Rachael is precious, and I'm so glad someone like her met someone like Hallie. Jonah… he was a bit of a tricky character? I didn't really have any particular opinion toward him, but I really appreciate the author's choices regarding some aspects of his and Hallie's relationship, especially Hallie's hesitation about the relationship between them while they were lost in the wilderness.
All in all, The Distance Between Lost and Found was a poignant, beautiful read. The parts I wasn't sold on was more of an its-not-you-its-me thing, and I'd definitely jump at the chance to read more of the author's books.
How to Disappear by Sharon Huss Roat
Published August 15th 2017 by HarperTeen
Source: Won
Rating: ★★★★☆
Vicky Decker has perfected the art of hiding in plain sight, quietly navigating the halls of her high school undetected except by her best (and only) friend, Jenna. But when Jenna moves away, Vicky's isolation becomes unbearable.

So she decides to invent a social life by Photoshopping herself into other people's pictures, posting them on Instagram under the screen name Vicurious. Instantly, she begins to get followers, so she adds herself to more photos from all over the world with all types of people. And as Vicurious's online followers multiply, Vicky realizes she can make a whole life for herself without ever leaving her bedroom. But the more followers she finds online, the clearer it becomes that there are a lot of people out there who feel like her— #alone and #ignored in real life.

To help them, and herself, Vicky must find the courage to face her fear of being "seen," because only then can she stop living vicariously and truly bring the magic of Vicurious to life.
I was initially kind of hesitant because from the synopsis it sounded like Vicky had photoshopped herself into other people's pictures, and then people followed her on Instagram thinking that she'd actually gone to all those places. Which isn't what happened at all – she photoshopped herself into other people's photos, and its clear that she didn't actually go, but that's kind of the point: she photoshops herself into places she wishes she's at but isn't, and people follow her because they share the same sentiments. Everyone feels lonely and out of place and the account brings them all together, and there's so many ways it could go wrong and the story hints and teases at some, but ultimately the account makes a wonderful, emotional impact. How to Disappear does make things rather simplistic, especially where the account is concerned, but it really gets you thinking.
The tone was a bit young for my personal preference, but this book punched me right in the feels and it was uncomfortable but in a good way? It was uncomfortable in the way it should be given me as a person and I'm shit at reviewing books I liked so hi hello please know that How to Disappear messed me up and I think you should read it.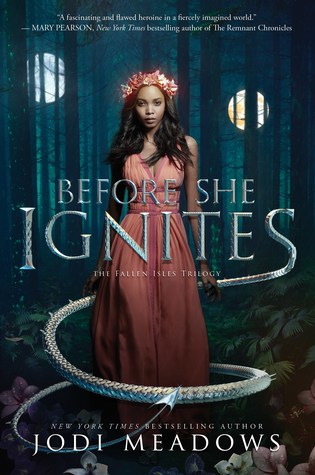 Before She Ignites (Fallen Isles Trilogy #1) by Jodi Meadows
Published September 12th 2017 by Katherine Tegen Books
Source: Purchased (Owlcrate!)
Rating: ★★☆☆☆
Before

Mira Minkoba is the Hopebearer. Since the day she was born, she's been told she's special. Important. Perfect. She's known across the Fallen Isles not just for her beauty, but for the Mira Treaty named after her, a peace agreement which united the seven islands against their enemies on the mainland.

But Mira has never felt as perfect as everyone says. She counts compulsively. She struggles with crippling anxiety. And she's far too interested in dragons for a girl of her station.

After

Then Mira discovers an explosive secret that challenges everything she and the Treaty stand for. Betrayed by the very people she spent her life serving, Mira is sentenced to the Pit–the deadliest prison in the Fallen Isles. There, a cruel guard would do anything to discover the secret she would die to protect.

No longer beholden to those who betrayed her, Mira must learn to survive on her own and unearth the dark truths about the Fallen Isles–and herself–before her very world begins to collapse.
There's not that much to say about Before She Ignites. It wasn't an explosive read on either end of the spectrum. Really, it read like a prequel of sorts? A set-up for future books in the series. "Illegal dragon trafficking" sounded right up my alley (DRAGONS!!), but everything turned out to be pretty shallow, and the before/after time skips didn't really help the story along, so much as it did provide filler scenes between already-filler scenes. I did like the dynamic between a lot of the prisoners, and it was so, so nice to see this kind of mental health rep in YA fantasy. But also… a good chunk of the story in Before She Ignites turned out to follow Mira wandering around the prison and telling herself her parents will come save her soon – where were the dragons??
Glass Sword (Red Queen #2) by Victoria Aveyard
Published February 9th 2016 by HarperTeen
Source: Purchased
Rating: ★★☆☆☆
If there's one thing Mare Barrow knows, it's that she's different.

Mare Barrow's blood is red—the color of common folk—but her Silver ability, the power to control lightning, has turned her into a weapon that the royal court tries to control.

The crown calls her an impossibility, a fake, but as she makes her escape from Maven, the prince—the friend—who betrayed her, Mare uncovers something startling: she is not the only one of her kind.

Pursued by Maven, now a vindictive king, Mare sets out to find and recruit other Red-and-Silver fighters to join in the struggle against her oppressors.

But Mare finds herself on a deadly path, at risk of becoming exactly the kind of monster she is trying to defeat.

Will she shatter under the weight of the lives that are the cost of rebellion? Or have treachery and betrayal hardened her forever?

The electrifying next installment in the Red Queen series escalates the struggle between the growing rebel army and the blood-segregated world they've always known—and pits Mare against the darkness that has grown in her soul.
Mare's mantras of "I am special" and "I am the lightning girl" really grated on me (please get over yourself?), as did the quasi love-square (CAL AND KILORN DESERVE SO MUCH MORE) thing, and the second half was pretty much just a repeat of the first half in a different setting, but tHE ENDING. Thanks, Glass Sword, for reminding me of how weak I am to cliffhangers. Onto King's Cage it is, then.